Projects
Over the years, Project X has built a reputation for providing complete, top-notch, turnkey design, lighting and presentation solutions to the entertainment and corporate communities across Canada and around the world.

NDP Leadership Convention 2012
Project X Productions first worked on an NDP convention in 2006.  Since that time we are proud to have been the designers and technical producers on conventions in 2009 in Halifax, 2011 in Vancouver, and 2012 in Toronto.
The 2012 Leadership Convention, the first since becoming the official opposition, was a particularly memorable one.  The venue was the Metro Toronto Convention Centre and the hall allowed for a capacity of more than five thousand people.  Due to overwhelming delegate and media interest the original design had to be revised in order to accommodate everyone.  Once approved the design then evolved quickly into various planning elements; staging, lighting, video, audio, and media.  There were so many risers required that a handful of staging companies had to be involved in order to make it all work.  All video screens in the hall were high definition and, for the first time at a canadian political convention, the pool feed to the media was entirely in high definition.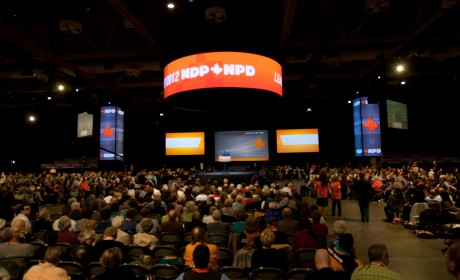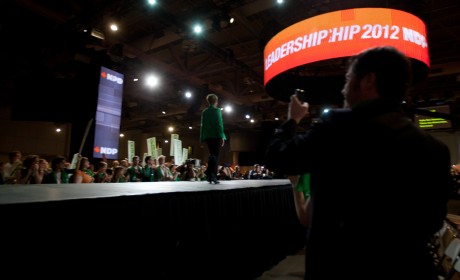 CUPE Ontario Annual Convention
In 2009 Project X Productions was contracted to provide the complete audio/visual design and execution of the CUPE Ontario convention in Toronto. CUPE Ontario communicated their need for an innovative design concept to fulfill the convention requirements and to absolutely staying on budget. Working closely with CUPE staff Project X was happy to have accomplished all these goals. Since then Project X has worked on the 2010 Windsor convention, the 2011 Toronto convention, and the 2012 Windsor convention.  We look forward to a long relationship with CUPE Ontario.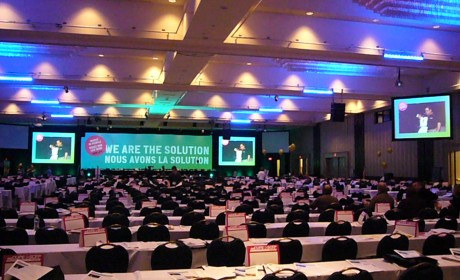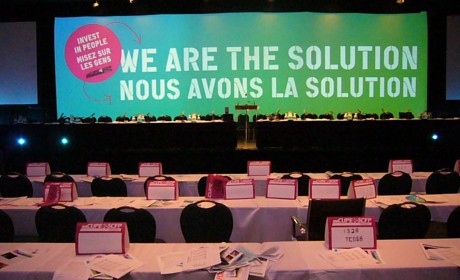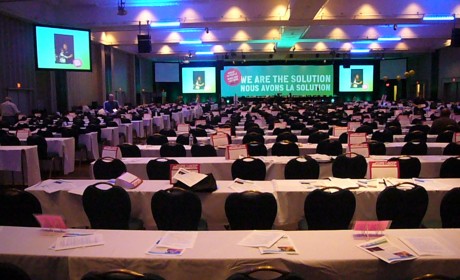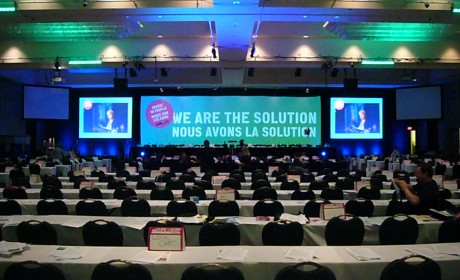 Federal NDP Election Leaders' Tour
In 2008 and again in 2011 Project X was proud to send five of our most talented technicians on the road with Jack Layton as he toured the country from coast to coast to coast.  Supported by design, logistics, and planning staff back at the Project X headquarters the tour team did over 100 events in as many venues in a six-week period.  From intimate rural rallies to the full-scale election-night event our team delivered superior production value while ensuring the party and the network broadcasters' needs were met.